Beats Pill+ Speaker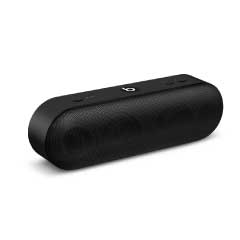 Beats Pill+ Speaker
Beats Pill+ Speaker
Includes VAT of Approx £14.69*
Finance from £7.44 per month 14.9% Representative APR
Delivery: 5-7 days - Free
* An approximation. Fees may vary over time.
Only available on the iPhone 5s or later, iPad Pro, iPad Air (all models) and iPad mini 2 or later. 2 Available in the Google Play Store on selected Android devices.
Techspecs
Defined, pure sound quality
Portable, compact design
Pair and play with your Bluetooth® device
Stereo Bluetooth® to sync two Beats Pill+ speakers together for dedicated left and right playback
Input type: 3.5mm jack
Android compatible
12 hour rechargeable battery
LED fuel gauge shows full or depleted charge level when plugged in, and full, low or depleted charge level when not plugged in
Charge out to charge your iPhone and other devices; Lightning to USB-A charging cable
Power adapter and Lightning cable included
Rechargeable lithium-ion
Dimensions
Height:

6.36

cm
Width:

6.92

cm
Depth:

21

cm
Weight:

0

g
Frequently Asked Questions
Representative
14.9
% APR.
Based on loan amount of £
164.65
over
24
months at an interest rate of
14.0
% pa (fixed).
Deposit payable £
10.00
Monthly repayment £
7.44
. Total repayable £
188.40
Monthly pricing requires a 24 month instalment loan with 14.9% representative APR from etika (a trading name of etika Finance UK Ltd), a company registered in England and Wales -07440512 and authorised and regulated by the Financial Conduct Authority, registration number: 697658. Company address: WeWork, No.1 Spinningfields, Quay Street, Manchester, M3 3JE. Subject to application and status. Full terms apply.